And suddenly it's the end of February! How does time work anyways?
Two items remain unfinished from the February 2020 Roadmap: resizing tokens and improving the edge tool. I'll start off March by working on those two items (see February's roadmap for a description of what that work is), but after that's done I'll start in on "server side rendering" and finally mobile support

.
Server Side Rendering
So this sounds very shiny and interesting, but it's unfortunately a very boring feature for ya'll. It's more of an infrastructural bug fix really.
The problem I'm trying to fix is that if you search "Shmeppy" on Duck Duck Go or Bing or many other search engines (besides Google) you won't actually see shmeppy.com in any of the listings.
This is (obviously) bad for Shmeppy and is likely hurting acquisition numbers in ways that are hard to measure.
"Server Side Rendering" is the name of a technology that I'll be using to fix this problem. I'll spare you the details, but I'll (hopefully) share an exciting screenshot of Shmeppy appearing in Duck Duck Go's search results sometime after I finish this work.
Mobile Support
Only players will get to enjoy using Shmeppy with their smartphone or tablet. GMs will still need to use a desktop (at least for now). But I think this'll be an exciting milestone for Shmeppy anyways.
I've come up with what I think will be a lovely interface for mobile players, and I'm pumped to show it to ya'll.
I do not expect to finish mobile support by the end of March (hell, I'll be pumped to just start on it given that I've got a few things to do this month and there's a terrifying viral epidemic on the horizon), but hopefully I'll put myself into a good position to get the work done in April.
Anyone got devices?
Speaking of… All I have is an iPhone 8 to test on, and one of the biggest challenges of supporting mobile is that there's so many mobile devices out there. If you'd like to donate a mobile device to me I'd be super appreciative. Email me at john@shmeppy.com, poke me on Discord, or contact me on this forum if you've got a device to donate.
Bonus: February's (Almost) Final Numbers
There's still one more day in February (and the rest of tonight) but take a look at the latest stats: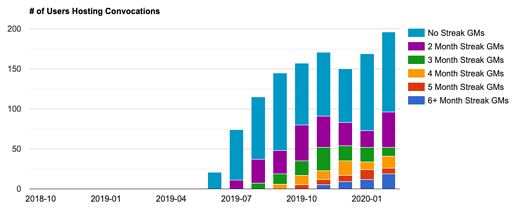 Exciting! If you haven't hosted a game on Shmeppy this month yet, maybe consider doing it today or tomorrow

. Would be cool to clear the 200 mark.