So, yesterday I ran my first game using Shmeppy, and all and all, it went pretty well. I enjoyed using it, and I liked that I could put about the same or more detail on the map than I would at physical table without spending hours on it. (I tend to be very persnickety about getting features accurate and regular, so even going for a low level of fidelity would take me a couple hours) There was a bit of a learning curve for both me and my players, but that got mostly smoothed out by the end of the session I think.
Some things I noticed:
Players repeatedly dropped their character tokens into the fog of war and needed to be rescued so much that it became a bit of an in joke by the end of the session. While it did slow down play a little bit, it wasn't the end of the world. I'm not really sure if there's a good way to fix this besides designing maps to have less FOW. Maybe some way to mark tokens as always visible?

No one paid much attention to distance, in or out of combat. I guess it's not too weird, given the party is nearly all ranged (5 out of 7), and we never really payed much attention to it when we were meeting in person, but I figured that people might focus on it more.

When having the map open to half the screen rather than full screen, the connected players box could get a bit in the way. It might be nice if there was a way to minimize it
I'm sure there's other things, but that's all I can really think of at the moment. Barring all of my players being slammed with school work and life, I'm going to be running another session here next week and am looking forward to it.
Oh, and if anyone's interested here's the map of the dungeon after they cleared it: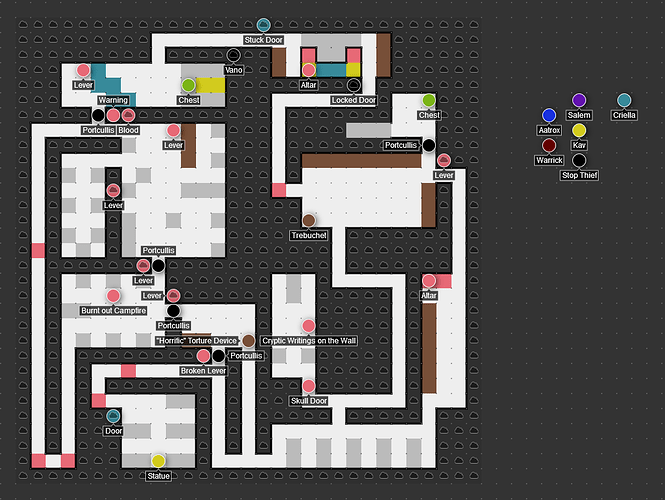 It's a slightly modified version of a random dungeon from donjon.