I wanted to see what a dice roller in Shmeppy might be like so this last week I made a rough prototype as a standalone page in Shmeppy. You don't need to be logged in to use it, check it out at https://testing.shmeppy.com/dice.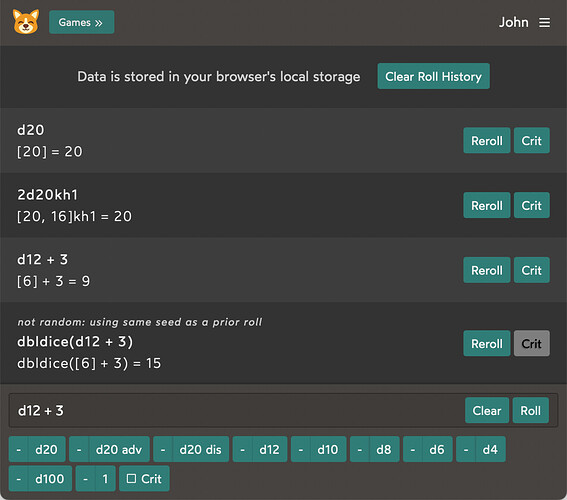 A few of my thoughts about it:
Playing DnD while using Shmeppy on my phone and doing chores around my house the last year or so has made me want to see if I can integrate a dice roller into Shmeppy. So my focus is on mobile.
The buttons are tailored specifically for DnD 5e, with the idea of separate sets of buttons for each system if the basic idea feels alright.
It understands roughly the same dice syntax as Roll 20. I forked an existing parser and my changes are open source.
The buttons can only modify simple expressions. You'll see them disable themselves if you write out a more complex expression that they don't understand.
I made a dice roller before my first ever game of a TTRPG many years ago and have kept using it over the years. The feature set of this experimental dice roller is modeled after my original one, though there's a lot of differences.