I've been tracking a simpler metric recently. Just "GMs connected during game activity" (where game activity is any modification to a map, like a moving a token, or filing some cells).
Take a look at this graph. For each day, it shows the number of GMs who were connected to an active game in the last 7 days. It breaks those GMs down further based on how many hours they spent connected during game activity.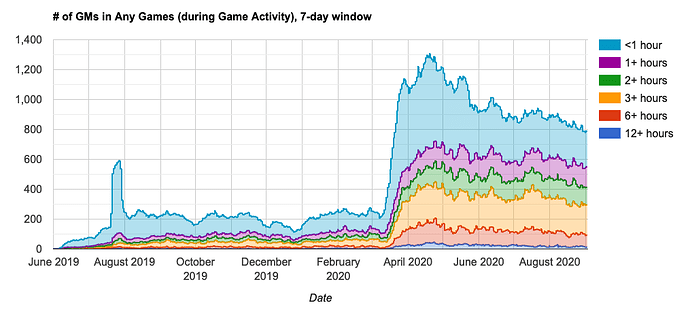 I think this graph shows a fairly stable population of users, with a slow bleed of people leaving the platform and not getting replaced. The number of users using Shmeppy for more than an hour each week seems particularly consistent, with a fairly slow decline.
I'm not content with a decline of users (obviously) but I have plans that I think will let me move my growth rate into an upward slope. For example:
After subscriptions land, I'll have more money to dump into advertising on platforms like Reddit.
Adding background images as well as mobile-support will expand the market of people that Shmeppy appeals to.
Further quality-of-life things like Copy + Paste will hopefully help retention.
We'll see. Switching to subscriptions is certainly a scary point in Shmeppy's life, I'm nervous

.
Also, here's the same chart with 30-day windows: