Tokens don't look very good when you stack them on top of each other.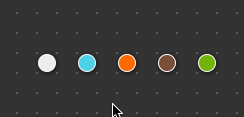 The whole interface feels very cludgy to me. Fortunately, most tabletop RPGs don't involve stacking entities on top of eachother very often, so I don't think this wart in Shmeppy's interface really bugs too many people. Even so, I'd like to figure out a better interface.
My current "best idea" is to improve the way Shmeppy says "there's more than one token here." I think a good way to do this will be to draw the top few tokens in the stack slightly offset from eachother so you can see a hint of other tokens underneath.
Then, when a user hovers over the stack with the token tool selected, a tooltip will appear that says simply "5 tokens" or "11 tokens" or "3 tokens" or however many are in the stack.
This won't be convenient if people are dealing with large stacks of tokens, because the only way to get to the 6th item in the stack is to take off the 5 tokens above it first but it's fairly simple to implement and I think it should satisfy most people.
Does anyone have better ideas? Or does anyone have a workflow that involves stacked tokens in Shmeppy and can share it?