I posted the map of a town from my homebrew campaign a couple weeks ago, but I'm also running a Storm King's Thunder campaign, and we've now had two sessions using shmeppy, which have gone really well. For those unfamiliar with the Storm King's Thunder campaign, there's a point early on where giants and their minions lay siege to a town and the players get caught up in the battle. My players were in the town of Triboar, which according to the official map looks like this: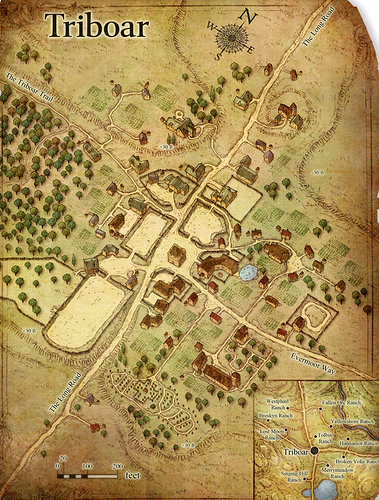 I recreated this in shmeppy, which ended up looking like this: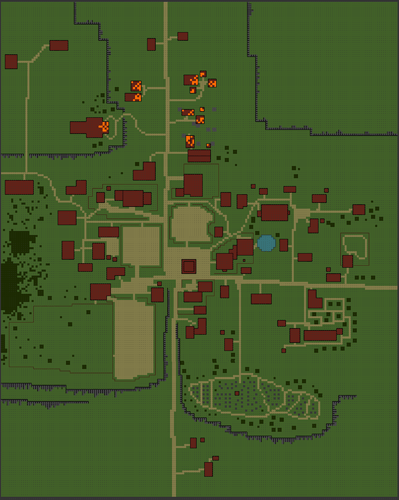 The orange you see at the top is where, at the beginning of the attack, magmin troops came rushing in to sow chaos and light houses ablaze. It was really neat to be able to show the spread of flame as every turn more buildings were set alight and the players could see the chaos spread in "real-time".
We had to stop that session in the middle of that fight, so I didn't bother preparing a new map for the next session. Which meant I was very unprepared when they blazed through the rest of the encounter and travel so quickly I had another encounter starting before the session ended. I threw together a rough map of the floating wizard's tower they were traveling in (if you're familiar with STK, you might be thinking my timeline is off, but it's just because I reworked a bunch of stuff because I didn't like how the book lays out the plot…). Since it's a 200 foot tall tower in the sky, and a dragon was involved in the attack, I needed to show three dimensions, so as well as the plan view I quickly sketched an elevation view as well. It's rough, but worked beautifully!