I mentioned in this month's roadmap that my analytics tools weren't working anymore because Shmeppy's data became too large for them, and that I'd be working on fixing that.
Well I've done it! I have metrics again

, and they're way better than they ever have been. I even published the source code if you're interested in seeing how they were made.
I'll be making some other charts next week, and probably many more over time, but I've made the most important chart already, and here it is: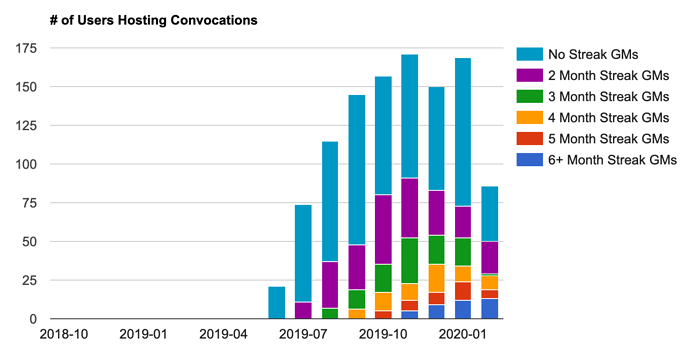 A "convocation" roughly means a "game where multiple people are actually playing a TRPG using Shmeppy". So this chart shows the number of GMs using Shmeppy each month.
If you recall from How long will shmepy be in early access/how much will it cost I mentioned that only GMs will need a paid subscription when Shmeppy becomes non-free. So this chart is showing the number of users who would be paying for Shmeppy.
This is the metric that I need to increase if Shmeppy is to survive. If I can't get make these numbers grow by about 10x, Shmeppy will never be a source of financial stability for me, and I'll have to go back to regular employment.
The stall in growth is pretty understandable given that I was moving and basically not touching the project for several months. But I'll be working hard to try and grow these numbers quickly in 2020.