You can access instructions for each tool:
With a mouse hover over the tool in the toolbar.
With a touch device press and hold the tool in the toolbar.
You'll see a description of everything you can do with the tool. See below for an example of what you should see.
You can also browse the articles in #helpdesk:tool-walkthroughs (note: these articles are incomplete as of this writing on Jun 22, 2023).
Mouse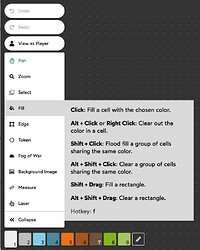 Touch Device